Stay Safe On Your Next Aquatic Adventure!


The beach is littered with sharp shells, discarded trash and other debris lurking in the sand and beneath the ocean's surface.


AQUA is specifically built to protect your feet from sharp rocks, fish hooks, coral reefs and other sharp objects beneath the surface that may lead to a serious injury.


These Barefoot Water Shoes will provide you and your family peace of mind and durable traction on any wet or slippery surface. 

Key Benefits
Barefoot Breathable Featherweight Design 
The AQUA is designed with a stretchy material that feels like a sock while still providing unrivaled support & performance. 
So lightweight, you'll forget you're even wearing them.


Protection From Sharp Objects & Debris
We've designed these with a penetration proof sole allowing you maximum protection from any and all dangers of the beach or under the ocean's surface.
With pollution at an all time high, all it takes is one wrong step for you or your child to be scarred for life. The AQUA™ solves that in an safe & comfortable way.



Anti-Slip Super Strength Sole


Did you know statistically, you are more likely to suffer a serious injury barefoot on wet slippery surfaces like beaches, boats, and boardwalks?


Our ultra-strength non-slip sole allows ideal footing on any wet surface which ensures safety & confidence even on the most slippery terrains.


Quick Dry System Drains Water In Seconds 

The AQUA™ is designed with a DuraDrain™ sole that has built in holes to constantly allow water to keep flowing out of the shoe.
 
This will allow your shoes to dry up incredibly quickly after taking a swim & provide a cool, relaxed environment for your feet.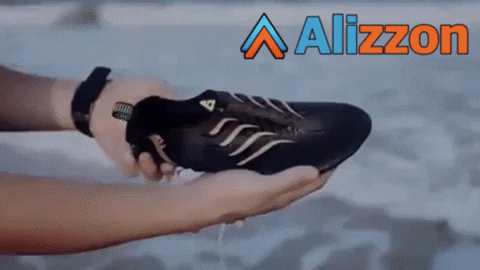 "This water shoe is great for wearing for any kind of water activities. I bought it to wear in the beach and I have used the shoes for about a week now. I absolutely love them. Definitely worth it if you plan to do some water activities."


⭐⭐⭐⭐⭐EMMA AIDEN, MIAMI USA 


Get Yours Today For Over 50% Off With Free Worldwide Shipping!